Subscribing the CitySpotterGirl newsletter

The CitySpotterGirl is Viennas largest newsletter for women and will be sent out weekly. Here you will find the best events, new stores and the hipest restaurants every week – hand picked, tested anonymously and charmingly described.

You can get the newsletter in german and english
Please fill out all fields.


We need your data exclusively for sending out the newsletter. The data will never be passed on to a third party!
IMPORTANT: You will receive an e-mail with a confirmation link, which you must click to complete the registration. The registration is only successful when the confirmation link in the registration mail is clicked.
If this email does not arrive within 5 minutes, check your spam folder. Should there be any problems with the newsletter registration, please contact our editorial staff at .
Unsubscribing the newsletter
For data protection reasons we ask you to unsubscribe directly via the newsletter in your mailbox. Scroll to the end of the mail and click the unsubscribe button.
[
zurück zum Portal
]
STADTSPIONIN NEWSLETTER ZUM NACHLESEN / READ
2023: alle Newsletter
2022: alle Newsletter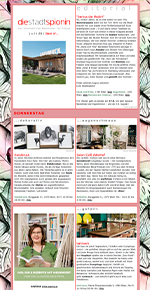 STADTSPIONIN.LANDPARTIE ZUM NACHLESEN
2023: alle Landpartie Newsletter
2022: alle Landpartie Newsletter
die stadtspionin